G2 Module Selector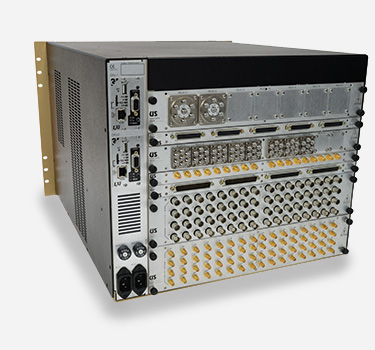 Since our Series G2 was originally introduced, new modules and continuous product refinements have been made. The Series G2 modules listed below encompass our latest standard model with some very exciting performance features and capabilities. They feature hot-swap capability and are compatible with our advanced touchscreen G2T Mainframes.
The G2 Modules install at the rear of a mainframe so signal connectors face the inside of your equipment rack . The rack mount Series G2T "mainframes" are available in four sizes to accommodate the needs of various sized applications. They feature a front panel menu driven touchscreen, single or dual (redundant) front loading hot-swap power supplies, and single or dual (redundant) C3 Controller CPUs (6RU and 8RU units only). Standard interfaces are 10/100 Ethernet (LXI), multi-serial (RS-232C, RS-422A or RS-485), USB 2.0, or GPIB (using our GPIB-USB adapter). The units are designed for any international AC power source.

NOTE: The G2T units (touchscreen) supersede the original G2 mainframes (VF and keypad).
Go to 1xN Modules
Go to MxN Modules
Series G2 Product Page
Series G2T Mainframes
G2T Programmers Guide (Rev A) PDF
MxN Configurations (sorted by freq)

Model
Switching Elements
Frequency Range
Crosstalk Isolation

Impedance

Description
of Function

Minimum Config
Maximum Config

Conn
Type

Module
Slots
G2S02

Solid-State
DC-500kHz
>70dB @ 100kHz
Balanced 100, 300, 600 or 50k
General purpose true differential solid-state non-blocking full fanout analog array for distribution and routing of audio or telemetry signals

16 in
16 out
64 in
64 out
DC-37
1-2
G2R10

Relay
DC-10MHz
(typical)
>45dB @ 10MHz
Balanced
2-wire
General purpose relay-based array with bi-directional DC signal path suitable for ATE
4 in
4 out
16 in
16 out
DC-37
1
G2S11
Solid-State
T1 & E1 rates
n/a
100 ohm balanced
Transformer coupled differential array for distribution and routing T1 or E1 data signals
8 in
8 out
16 in
16 out
RJ45
3
G2D62B
Digital
DC-50Mbps
n/a
100 ohm balanced
Differential 422 digital I/O with full fanout capability, 100 ohm impedance -Triax
8 in
8 out
64 in
64 out
Triax
BJ77
1-8
G2D64B
Digital
DC-50Mbps
n/a
100 ohm balanced
Differential 422 digital I/O with full fanout capability, 100 ohm impedance, multipin
32 in
32 out
64 in
64 out
DC-37
1-2
G2D71
Digital
>100Mbps
n/a
50 ohm differential
True differential digital LVDS inputs, differential ECL outputs with full fanout capability
8 in
8 out
64 in
64 out
SMB
2-8
G2D72
Digital
>100Mbps
n/a
50 ohm differential
True differential LVDS digital  inputs and outputs with full fanout capability
8 in
8 out
64 in
64 out
SMB
2-8
G2S32H
Solid-State
DC-75MHz
60dB @ 10MHz
50 or 75
Single-ended general purpose HIGH LEVEL analog array for TTL, PCM or other high level analog signals 75 ohm, or 50 ohm
8 in
8 out
64 in
64 out
BNC
1-8
G2S32
Solid-State
DC-125MHz
40dB @ 125MHz
50 or 75
Single-ended general purpose analog video array for RGB signals 75 ohm or 50 ohm
8 in
8 out
64 in
64 out
BNC
1-8
G2S33
Solid-State
DC-160MHz
40dB @ 125MHz
50 or 75
Single-ended general purpose analog video array for RGB signals 75 ohm
8 in
8 out
64 in
64 out
BNC
1-8
G2S44
Solid-State
20-250MHz
60dB @ 70MHz
50 or 75
Single-ended non-blocking full fanout array for high performance IF routing without any looping ports, 50 or 75 ohm
8 in
8 out
32 in
48 out
BNC
4-6
G2S47
Solid-State
20-250MHz
60dB @ 70MHz
50 or 75
Single-ended non-blocking full fanout array for high performance IF routing, includes both input and output looping ports, 50 or 75 ohm
8 in
8 out
32 in
48 out
BNC
4-6
G2S48
Solid-State
20-250MHz
60dB @ 70MHz
50 or 75
Single-ended non-blocking full fanout array for high performance IF routing, includes output looping ports, 50 or 75 ohm
8 in
8 out
32 in
48 out
BNC
4-6
G2S54
Solid-State
20-250MHz
60dB @ 70MHz
50 or 75
Single-ended full fan-in combiner array for high performance IF routing without any looping ports, 50 or 75 ohm
8 in
8 out
48 in
32 out
BNC
4-6
G2S57
Solid-State
20-250MHz
60dB @ 70MHz
50 or 75
Single-ended full fan-in combiner array for high performance IF routing with input and output looping ports, 50 or 75 ohm
8 in
8 out
48 in
32 out
BNC
4-6
G2S58
Solid-State
20-250MHz
60dB @ 70MHz
50 or 75
Single-ended full fan-in combiner array for high performance IF routing, includes output looping ports, 50 or 75 ohm
8 in
8 out
48 in
32 out
BNC
4-6
G2D70A
Digital
>600Mbps
n/a
50 ohm differential
True differential ECL digital inputs, differential ECL outputs with full fanout capability. Singled-ended available
8 in
8 out
64 in
64 out
SMA
SMB
2-16
G2S42
Solid-State
20-1000MHz
50dB @ 1000MHz
50
High performance RF matrix with non-blocking full fanout capability or combining capability (with or without integrated amplifiers)
8 in
8 out
12 in
16 out
SMA
BNC
4
G2S75
Solid-State
800-2400MHz
50dB @ 2400MHz
50
High performance RF matrix with non-blocking full fanout capability or combining capability (with or without integrated amplifiers)
8 in
8 out
32 in
32 out
SMA
N-Type
4-12
G2S75X
Solid-State
150-3000MHz
45dB @ 2400MHz
50
High performance RF matrix with non-blocking full fanout capability or combining capability (with or without integrated amplifiers)
8 in
8 out
32 in
32 out
SMA
N-Type
4-12
G2S78
Solid-State
20-3000MHz
50dB @ 2400MHz
50
High performance RF matrix with non-blocking full fanout capability with integrated amplifiers
8 in
4 out
16 in
16 out
SMA
N-Type
3-6
G2R19A
Relay
DC-18GHz
60dB @ 18GHz
50
High performance microwave "blocking" bi-directional matrix capability, totally passive signal path. Optional terminations
4 in
2 out
10 in
10 out
SMA
N-Type
4-8
1xN Configurations (sorted by freq)

Model
Switching Elements
Frequency Range
Crosstalk Isolation

Impedance

Description
of Function

Minimum Config
Maximum Config

Conn
Type

Module
Slots
G2S08

Solid-State
DC-440Hz
n/a
n/a
High current bi-directional power switching AC or DC up to 30 amps

1x1
1 in
8 out
Screw Terminal
3
G2R04
Relay
DC-10MHz
(typical)
>50dB @ 10MHz
8-wire
1x4 general purpuse switch for switching a DB25 with 8 wires
1x4
8-wire
1x4
8-wire
DC-25
1
G2R06-1
G2R06-2
G2R06-3
Relay
DC-10MHz
>60dB @ 10MHz
Balance
2-wire
Two-wire general purpose passive switching for ATE, audio or DC power - 3 basic versions
1x1
1x16
DC-37
1
G2R16
Relay
DC-1.3GHz
>55dB @ 1GHz
50 or 75 ohm
Coaxial switching module with normally open contacts, 50 or 75 ohm (BNC, SMA or TNC connectors available)
Six 1x2
One 1x16
BNC
SMA
TNC
1
G2R16T
Relay
DC-1.3GHz
>55dB @ 1GHz
50 or 75 ohm
Coaxial switching module with self-terminating contacts, 50 or 75 ohm (BNC, SMA or TNC connectors available)
Six 1x2
One 1x16
BNC
SMA
TNC
1
G2R15
Relay
DC-3GHz
>60dB @ 1GHz
50 ohm
Coaxial switching module with or without self-terminating contacts, (BNC or SMA connectors)
Six 1x2
One 1x16
BNC
SMA

1
G2R13
Relay
DC-6GHz
>55dB @ 3GHz
50 ohm
Coaxial switching module with normally open (not self-terminating) contacts, (SMA connectors)
Six 1x2
Two 1x8
SMA
1
G2R20
Relay
DC-12GHz
>80dB @ 4GHz
50 ohm
Coaxial switching module, normally open, high power with N-type connectors
One 1x2
Six 1x2
and
Two 1x6
N-Type
4
G2R12
Relay
DC-12GHz
>80dB @ 4GHz
50 ohm
Coaxial switching module, normally open, high power with N-type connectors
One 1x3
Five 1x6
N-Type
4
G2R14
Relay
DC-18GHz
>60dB @ 18GHz
50 ohm
Coaxial switching module with self-terminating (3W) contacts
One 1x3
Six 1x6
SMA
3
G2R17
Relay
DC-18GHz
>60dB @ 18GHz
50 ohm
Coaxial switching module normally open contacts, combinations of tranfser or 1x2
One Transfer
Eight Transfer
SMA
2
G2R18
Relay
DC-18GHz
>60dB @ 18GHz
50 ohm
Coaxial switching module with normally open contacts
One 1x6
Seven 1x6
SMA
3
G2R22
Relay
DC-18GHz
>60dB @ 18GHz
50 ohm
Coaxial switching module with normally open contacts (small format)
One 1x6
Ten 1x6
SMA
2
G2R27
Relay
DC-18GHz
>60dB @ 18GHz
50 ohm
Coaxial switching module with self-terminating (3W) contacts
One 1x8
Four 1x10
SMA
5
G2R28
Relay
DC-18GHz
>60dB @ 18GHz
50 ohm
Coaxial switching module with normally open contacts
One 1x8
Seven 1x10
SMA
3
G2R25
Relay
DC-26GHz
>55dB @ 26GHz
50 ohm
Coaxial switching module with normally open contacts
Four 1x2

Sixteen 1x2

SMA
2
G2R40
Relay
DC-40GHz
>55dB @ 40GHz
50 ohm
Coaxial switching module with normally open contacts
One 1x3
Seven 1x6
K-Type
3
G2F90
Mems
1300-1500nm
>50dB
n/a
Multiple latching MEMs 1x2 fiber elements, up to eight sections
One 1x2
Eight 1x2
SC, FC
4