Model
10943B
The Model 10943B redundancy switch is considered the "gold-standard" for automated back-up switching for both digital and analog signals up to 2400MHz.
Critical applications such as in satellite broadcast or military require redundant (backup) systems. Our redundancy switchers provide an automated method of providing this function. Under program control, manual, or direct alarm input, this unit provides either 1:1 backup or 1:4 (one backup unit for every four).
Features
Ultra-High reliability relay technology
No distortion or gain issues
Four channels of A/B 2400MHz (L-Band) redundancy
Signals pass without power
SMA or F-Type signal connectors
Standard 50 ohm (others optional)
Routes both digital and analog signals to 2400MHz
Dual mode 1:4 or 1:1 backup switching
Dual serial control ports, or one serial & one Ethernet
Field configurable serial ports (232C/422A/485)
Dry contact direct alarm input port (with indicators)
Programmable driver output port for external devices
Rear panel indicator status LEDs
Front panel LED back-lit keypad controls
High contrast vacuum-fluorescent display
Rugged 1RU high chassis (1.75")
International AC power range (DC optional)
Self-monitoring hot-swap plug-in power supplies
Integrated rack mount design (19 inch)
Certified CE EN61010 (LVD)
Applications
Our 10943B is provides automated redundancy switching of equipment with single-ended digital or analog signals to 2400MHz.
Rather than using patch cords, distribution amplifiers and multi-couplers, the following installations may benefit from use of this product:
Broadcast centers
ENG vans and trucks
L-Band telemetry receivers
Tracking and test bases
Satcom ground stations
Telecom installations
Communication centers
Weapons testing centers
Satellite installations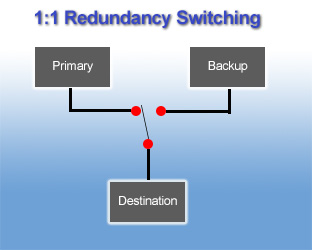 Similar Products