Model
10946B
The Model 10946B redundancy switch is a dual purpose back-up switching unit for signals up to 6GHz.
Critical applications such as in satellite broadcast or military require redundant (backup) systems. Our redundancy/transfer switchers provide an automated method of providing this function. Under program control, manual, or direct alarm input, this unit provides either 1:1 backup or transfer functions. Besides a 1:1 or transfer function, an external termination can be added for a self-terminating 2x1 function if desired.
Features
Ultra-High reliability 6GHz relay technology
No distortion or gain issues
Four channels of A/B (transfer) 6GHz redundancy
Signals pass without power
SMA signal connectors
Standard 50 ohm
Routes signals up to 6GHz
Dual mode 1:1 or 1:4 backup (ganged) switching
Dual serial control ports, or one serial & one Ethernet
Field configurable serial ports (232C/422A/485)
Dry contact direct alarm input port (with indicators)
Programmable driver output port for external devices
Rear panel indicator status LEDs
Front panel LED back-lit keypad controls
High contrast vacuum-fluorescent display
Rugged 1RU high chassis (1.75")
International AC power range (DC optional)
Self-monitoring hot-swap plug-in power supplies
Integrated rack mount design (19 inch)
Certified CE EN61010 (LVD)
Applications
Our 10946B is provides automated redundancy or "transfer"switching of equipment with single-ended digital or analog signals to 6GHz.
Rather than using patch cords, distribution amplifiers and multi-couplers, the following installations may benefit from use of this product:
L-Band or S-Band receivers
Broadcast centers
ENG vans and trucks
Tracking and test bases
Satcom ground stations
Telecom installations
Communication centers
Weapons testing centers
Satellite installations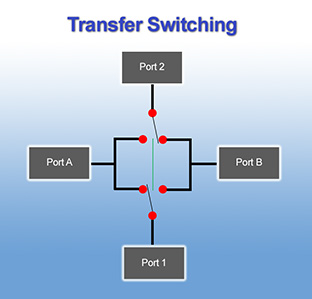 Similar Products