System
MS2010A
System MS2010A is a high performance DC-18GHz coaxial blocking matrix designed for high reliability, very low MTTR, and is available in configurations from 4x4 to 12x12 in an elegant & compact 2RU unit.
Intended for automating manual patch cords, or replace bulky and dated competitive products, this unit is designed for switching any coaxial signal within the DC-18GHz frequency. Our new proprietary high reliability relay element coupled with our elegant and sophisticated rack-mount packaging gives you the performance and maintainability you demand.
MS2010A units provide excellent signal performance with low crosstalk isolation, good phase matching, high isolation and low signal loss specifications. These rugged units are both compact and cost-effective. They provide the systems engineer with one of the best integrated solutions for reliably routing a wide range of coaxial signals. Each input can be connected to only one output at a time (no fanout, only 1:1 connections).
NOTE: Although it is available in standard configurations, the internal design construction makes it simple to build for custom or special requirements. Our technical staff can help configure the exact system to meet your specific application. Contact the factory.
Features
High reliability hot-swap relay technology
Low MTTR (<3 minutes field replaceable relays)
DC to 18GHz bandpass (min)
SMA signal connectors, N-Type optional
Full access matrix with 1:1 connectivity
Built-in coil current monitoring
Integrated individual relay usage log
Monitored cooling fans and internal temps
Configurations from 4x4 to 12x12
Built-in web browser
RouteWarePRO 30-day free trial
Remote control Ethernet, USB & serial ports
LXI 10/100 Ethernet with TCP/IP, SNMP, IPv4, IPv6
Command set is 488.2 compliant
Front panel color touchscreen display
Rugged 2RU high chassis (3.50")
International AC power range
Self-monitoring hot-swap plug-in power supplies
Optional input and/or output terminations
Optional input and/or output "looping" ports
Integrated rack mount design (19 inch)
Built-in chassis slide mounting (slides not included)
Certified CE EN61010 (LVD)
Applications
Our MS2010A is designed to automate connectivity coaxial signals spanning the DC-18GHz range. Rather than using patch cords, the following installations may benefit from use of this product:
Automated test equipment (ATE)
Antenna patching
ENG trucks
Ground stations
Telecom equipment
Uplink or downlink antenna feeds
Communication centers
Satellite installations
Specialized security devices
Encryption and decryption equipment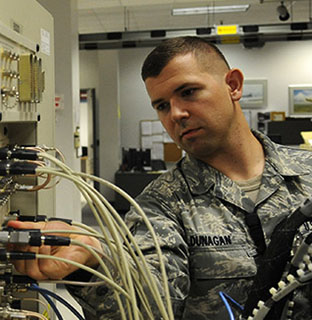 Similar Products