System
RSX4
System RSX4 is a modular high reliability product specifically designed for redundancy switching in a 1RU package.

High value communication assets require redundant (backup) systems. The RSX4 redundancy switchers provide an automated method of providing this function. Under program control, manual, or direct alarm input, this unit provides redundancy switching for single, dual, or up to quad channels. Plug in elements (PUCs) are available for a variety of digital and analog signals including ASI, IF, L-Band and others up to 18GHz, and some options to 40GHz..
These PUC elements can also be located a distance from the main RSX4 chassis to minimize your signal cabling. Simply add an extension cable.
NOTE: Although it is available in standard configurations, the design construction makes it simple to build for custom or special requirements. Our technical staff can help configure the exact system to meet your specific application. Contact the factory.
Features
Ultra-High reliability relay technology
No distortion or gain issues
Up to four channels of A/B or transfer redundancy
Signals pass without power (most PUCs)
BNC or SMA and other signal connector types
Choice or 75 or 50 ohm
Digital and analog type UCs
Serial control port, 10/100 Ethernet
Web browser control panel
Field configurable serial port (232C/422A/485)
Some PUC's are auto-sense switching
Direct alarm input port
Dry contact port for failure alert
Front panel LED back-lit keys
High contrast LCD display
Modular 1RU high chassis (1.75")
International AC power range (DC optional)
Self-monitoring power supplies
Integrated rack mount design (19 inch)
Cable retainer bracket included
Certified CE EN61010 (LVD)
Applications
Our RSX4 is designed to automate connectivity coaxial signals spanning the DC-18GHz range. Rather than using patch cords, the following installations may benefit from use of this product:
Automated test equipment (ATE)
Antenna patching
ENG trucks
Ground stations
Telecom equipment
Uplink or downlink antenna feeds
Communication centers
Satellite installations
Specialized security devices
Encryption and decryption equipment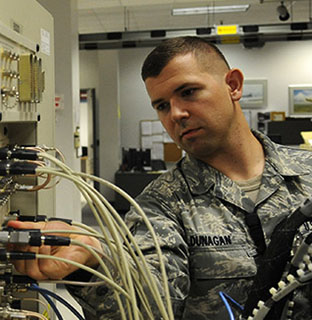 Similar Products