Model 10946B
Four Channel DC-6GHz Redundancy (transfer) Switcher
Multi-mode backup switch for communication
and ground station applications
Additional Similar Units HERE

Specification Sheet


Programming and Operations Manual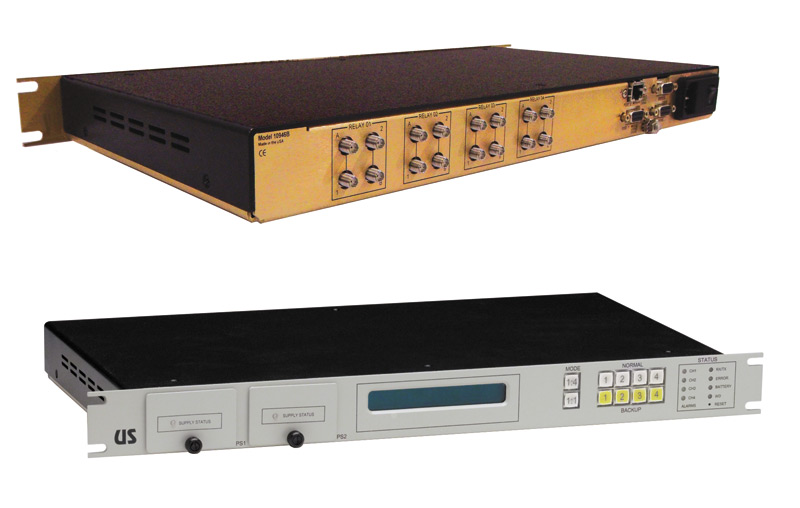 Main Features
Compact size (1RU)
Serial or Ethernet controls available
High reliability and quality
Light-weight modular construction
Flexible firmware to configure system
Advanced control and status features
Lithium-backed RAM stores configurations
Direct TTL alarm input port
Dual serial control ports for redundant controllers (Ethernet optional)
Additional programmable driver port to control external devices
The 10946B Redundancy (transfer) Switcher provides backup input selections for signals between DC-6GHz. The unit delivers ultra-high signal performance coupled with advanced remote/manual control and monitoring. Dual serial ports, or Ethernet and a single serial port configurations are available.
Designed specifically for the satellite, microwave, ATE and communications industry, the 1RU high rack mount unit provides the user with normal through paths for four channels of signals. Under front panel, remote control or direct alarm input control, the user can select an individual signal to change state. Optionally a termination can be included (suffix -T) to add four terminations to the unit changing the configuration of each four sections from a "transfer" function to a self-terminating 2x1 relay.
NOTE: Universal Switching Corporation's policy is one of continuous product development and improvement. Consequently, the company reserves the right to vary from the descriptions and specifications stated herein.
Product
Spotlight
50Mbps '422 Data
---
Downloads


Catalog 17


Short Form


RouteWarePRO
Control GUI


Paperless
Documentation


ISO Quality