System S6400D:
Flexible Switching System
From 8x8, Up to 64x64
DC-65MHz

Specification Sheet
High performance and expandable, the third generation S6400D offers coaxial switching configurations as small as 8x8 and can be expanded to a full 64x64. Simply install more modules in the field. Configurable for Video, RF, IF, Data and many other types of signals.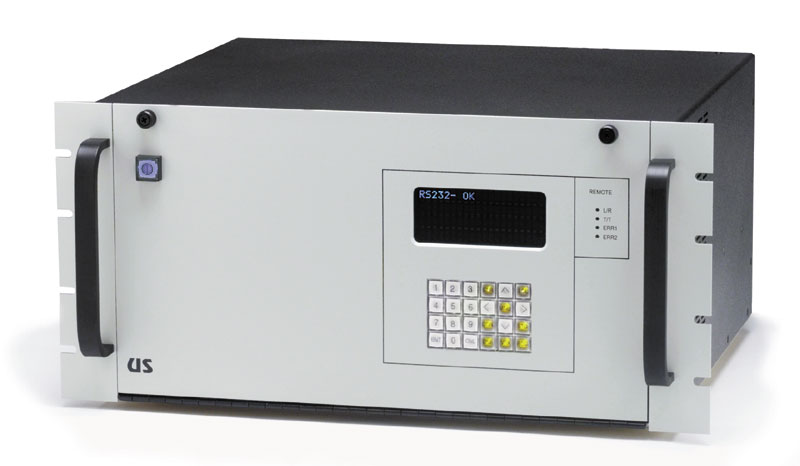 Front view of S6400D system
(large photo).
Main Features
Compact size
Solid-state crosspoints
Hot-Swap module technology
Low cost per crosspoint
High reliability and quality
Redundant signal paths (Tri-Stage design)
Advanced control and status features
This unit is available with different signal
performance features:
DC coupled:
Versions for NTSC, PAL or other types of video, T3 or similar data signal types

Low-Level AC coupled:
For lower noise routing of RF antennas or other types of low level communication signals up to -5dBm. Available in 50 or 75 ohm versions.

High-Level AC coupled:
For higher signal types like IF modulators and similar signals with a maximum of +13dBm. Available in 50 or 75 ohm versions.
NOTE: Universal Switching Corporation's policy is one of continuous product development and improvement. Consequently, the company reserves the right to vary from the descriptions and specifications stated herein.
Product
Spotlight
50Mbps '422 Data
---
Downloads


Catalog 17


Short Form


RouteWarePRO
Control GUI


Paperless
Documentation


ISO Quality